Mit tudunk eddig: A  bitcoin blockláncot a különböző scenariok alapján akár négy darabra is szétszaggathatják az erőviszonyok (Legacy BTC, 148BTC, NewPoWBTC, Bitcoin ABC). A Ethereumnál is erősen kérdéses, hogy miként fogja fogadni a folyamatosan felfelé szárnyaló árfolyamot azon csalódott bányászok kiéhezett hada, akik csak azt fogják látni, hogy innentől ők ebből a buliból ki vannak hagyva (PoW->PoS). A különböző scenariók erősen hintáztatják a befektetők bizalmi indexét. Látszik, hogy a negatív hírek hatására elindul a pánikszerű eladási hullám, míg egy-egy pozitív szignára azonnal áramlik is vissza a pénz a BTC-be és az Etherbe. Szerencsére az elmúlt 2-3 nap inkább pozitív szignálok jönnek, ennek persze a fő oka, hogy az elmúlt hetekben olyan szintű negatív híráradat érkezett, aminél nagyobb lentebb már nincs… (de van, de az inkább hagyjuk).

Ilyen friss pozitív hír, hogy a SlushPool (történelmileg az első bitcoin bányatársaság) hivatalosan is csatlakozott a BIP 148-hoz, rögtön követte is másik két bányász konglomeráció: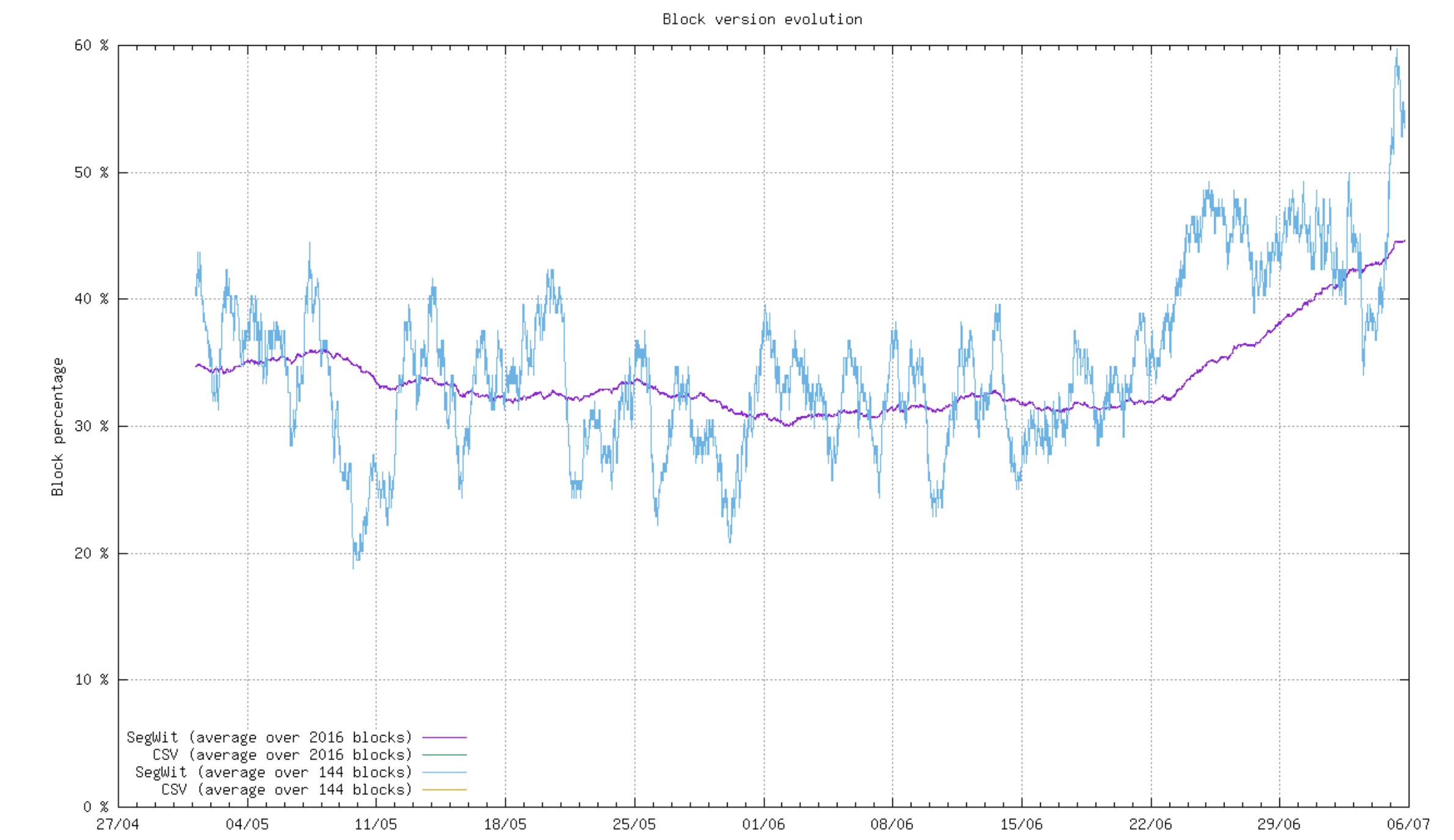 A hónapokon keresztül stagnáló segwit aktivációs szignál eléggé megkérdőjelezte az egész SegWit támogatottságát és sokan már komolyabb bukást vízionáltak. Az éppen ebben a percben 54,9%-on álló támogatottság komoly reményt adhat arra, hogy összejöhet a 80% augusztus 1-ig. A remény persze meglátszik a bitcoin árfolyamán is. Közel egy hónapos folyamatosan szűkülő sávból végre hétfőn napközben felfelé kitört az árfolyam és perpillanat is felfelé tartva újra átlépte a 2600 USD árfolyamot. Egyre valószínűbb, hogy a SegWit aktiválás előtt még egy komolyabb rallinak lehetünk a szemtanúi, majd (függően a BIP 148 vs SegWit2x/hard-fork csatától) némi jelentősebb dráma és korrekció után elindulhat egy újabb komoly hegymehet.
Az cikksorozat előző fejezeteiben azonban már jeleztem, hogy szemernyi kétségem sincs afelől, hogy a cryptocurrency piac többi szerepője ezt a bizonytalansági időszakot is képes lesz erősödésre, fejlődésre felhasználni.
[commercial_break]
Az első nyertesek már a frontvonalon vannak. Elég csak ránézni a Litecoin árfolyamára. Alig fél hónap alatt 100% árfolyamnövekedést ért el és semmi jelét nem mutatja annak, hogy szeretne innen jelentősebben visszakorrigálni. Ezen állításomat nyilván kénytelen leszek revidiálni, ha időközben lefut egy villám-rally BTC fronton. A legtöbb általam ismert és követett technikai elemző egybehangzó véleménye alapján a Litecoin lesz a BTC/ETH para abszolút nyertese. Erre utal egy a twitteren lezajlott szavazás is, amelyre adott közel 5800 válasz 52%-a a Litecoint jelölte meg "safe haven"-ként:
What is your safe haven to save your $BTC investment as we get closer to Aug 1st (BIP148) $ltc , $ETH , $xrp or other #cryptocurrency?

— Payam Prz (@payam_prz) June 27, 2017
Miért annyira jó az LTC? Egyrészt a Litecoin közel egy idős a Bitcoinnal, tehát bőven a 'nagy öregek' közé tartozik, lényegében a Bitcoin Core akkori kódjából lett leforkolva még 2011-ben. Lényegesen likvidebb a Bitcoinnál, hiszen az alacsonyabb ár mellett háromszor annyi LTC van forgalomban mint BTC.  Emellett fontos, hogy a bitcoin 10 perces block kiadási idejével ellentétben 2,5 percenként kerül kiadásra egy block, mindezeken túl: hosszas előkészítés után idén április végén az LTC sikeresen átesett a "SegWit" aktiváláson.
Tehát gyakorlatilag az LTC-re (Litecoin) akár úgy is tekinthetünk, mint egyfajta jövőbetekintés a Bitcoin kapcsán. Ha ez így van, akkor bizony ez a jövőkép nekem nagyon tetszik: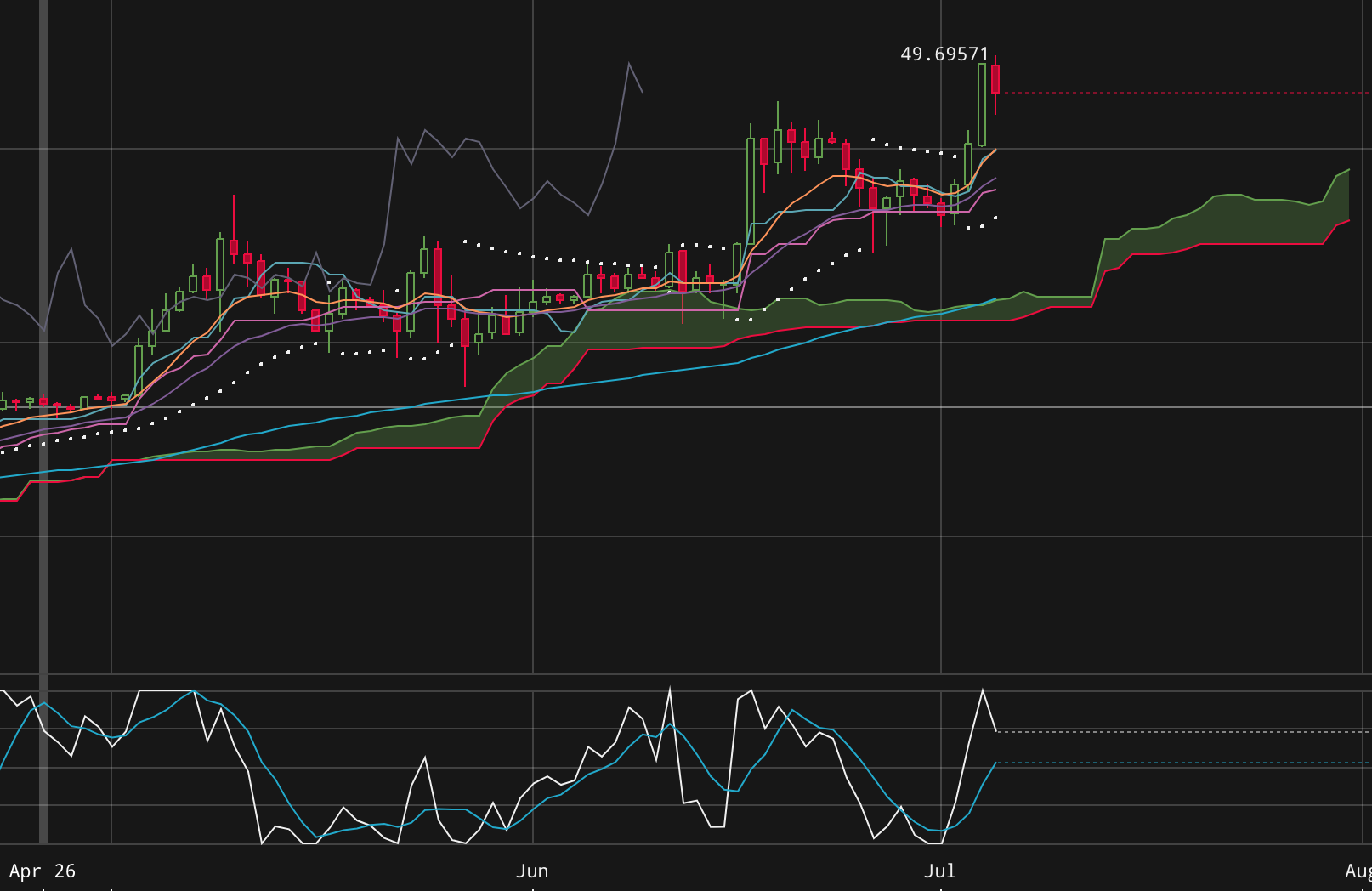 Jelen cikkel egy újabb igen nagyra hízott mélyelemző cikksorozatot zárok le. A bő hete lezárt Ethereum háttérelemző cikksorozat és a most lezárt forkológia sorozat után reményeim szerint a héten lesz időm kevésbé wikipédia szerű témákat is feldolgozni a blogon. Szeretnék a héten elkészíteni egy újabb összefoglalót az aktuális bányászati kilátásokról, beleértve egy ROI számítási updatet az elmúlt egy hónapban brutálisan megdrágult videókártyák szempontjából.
Ami még szintén a csőben van az egy részletes roadmap elkészítése a bitcoin segwit aktiváláshoz kapcsolódó fontosabb dátumokról és az ezekhez kapcsolódó esetleges scenariokról. Mivel az első releváns dátumig még jó két hét van (júli 21, BTC1 hivatalos kiadása és terjesztése), ezért nincs hova kapkodnom. Addig is sztéj tyúnd!