Sokakban felmerülhetett, hogy vajon mi történt ma, ami miatt iszonyatos vagyontömegek távoztak a teljes (crypto-) piaci kapitalizációból. A csúcs valahol 145 milliárd USD mínusz körül volt a market capben, de reggelre az egyes termékek árában is hatalmas drop következett be. A furán hirtelen (és legfőképpen gyanús) árfolyamzuhanás egy pillanat alatt következett be ma hajnalban 5:45-kor… lényegében az összes nagyobb kriptopénznél.
Persze a "first shoot and never research" wannabe facebook hangadóknál máris beindult a pánikolás. Van itt minden: "kipukkad a lufi", "anyukám megmondta!", "a csajomnak reggel viszketett a tenyere!", and so on…
Na de mi is történt valójában, mitől pirosodott szét minden szinte pillanatok alatt. Az ördög szokás szerint a részletekben rejlik. Rápillantva a coinmarketcap bármelyik coin alábontására ezt vehetjük észre:

* Price Excluded
A coinmarketcap ma reggelre úgy döntött, hogy felszámol a dél-koreai tőzsdék elszabadult áraival, amik csak torzítják az összpiaci képet, hiszen jellemzően 30-40%-kal magasabb ott a kereskedés köszönhetően az extrém piaci ralinak és a kyc-val zárt tőzsdéknek. Ezen intézkedésnek köszönhetően a coinmarketcap végre egy reálisabb képet mutat a piacról…
Vagyis mutatna, ha ezt előre jelzik és széles körben felhívják mindenki figyelmét erre a változásra. De mivel ezt nem tették meg, ezért a reggeli kávé után a szeméből az álmosságot törölgető tömegek azt látták kedvenc price index oldalukon, hogy újra bezuhant a total marketcap 700 milliárd alá, miközben a kedvenc coinjaik is veszítettek az átlag piaci értékükből akár 20-30%-ot is. Több sem kellett az egyszeri invesztoroknak már csattantak is az eladások majd az összes tőzsdén. Íme mindennek az eredménye a krakenen (1H chart, január 5 0:00 órától):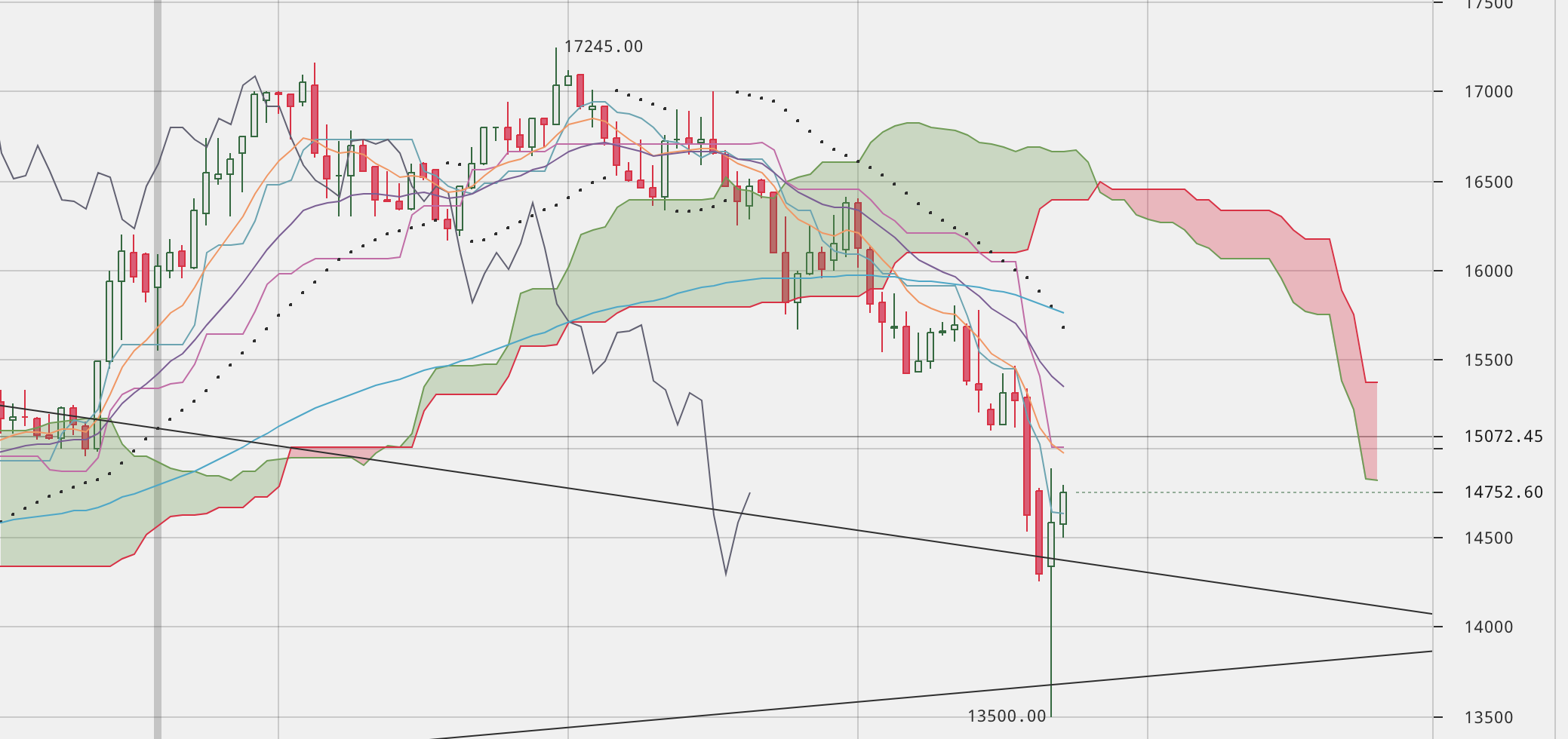 Gyönyörű… 17k USD-ről zuhant az árfolyam 13,5k-ra alig 16 óra alatt. Mindezt azért, mert a coinmarketcap.com API-hoz kötött traderrobotok és a botok által kiváltott pánikrohamban érintett daytraderek szó szerint eladtak mindent amit csak találtak gondolván, hogy ha egy pillanat alatt eltűnt az összesített piaci kapitalizáció majd 10%, akkor itt bizony vége a cryptovilágnak…
Igen, ez az a pont, ahol elő szoktam jönni a konspirációimmal, hogy vajon ki mindenkinek is állhatott érdekében ez a 'fatális véletlen'. De ezt most inkább magamban tartom, sokkal inkább szeretném felhívni mindenkinek a figyelmét egy nagyon fontos kifejezésre: DYOR! Azaz Do Your Own (fucking) Research! Azaz, nézz már utána a dolgoknak, mielőtt cselekszel. Ez roppantul sokat tud segíteni, hogy ne járulj hozzá leleményes fiatalok (vagy éppen öregek…) hirtelen vagyongyarapodásához a saját károdra.
Ui: Csak hogy igazán izgalmas legyen ez a nap, még hozzájött extrában a: "most már tényleg banolja a Bitcoin bányászatot a kínai kormány!" híresztelés is.
[commercial_break]