Gyengülő dollár, megdöbbentően alacsony foglalkoztatás növekedés és a baljós jelentési szezon kezdete. Ezek a hírek püfölték már péntek este óta a piacokat, de nyilván az igazi sokkhatás csak hétfőn érvényesült. Délelőtt még fene nagy volt a nyugalom a piacokon. Ázsia több hetes napon belüli csúcsokon zárt, Európában kissé mínuszból hamar fordult a kocka pozitívba és kora délutánra átlagosan 0,23% pluszban be is zárt Európa, majd beindultak az Amerikai börzék és folyamatos lefelé csorgásban be is zártak -1,09 és -1,47% között. Ma reggelre tovább folytatódott a részvényesek profit realizációja, melynek keretei között a Nikkei 3%-os mínuszban van. Szerencsére (?) a kínai börzéket ma már nem annyira rázta meg a profit realizálási hullám, lévén, hogy az elmúlt egy hónapban kis túlzással csak zuhant mind az SHCOMP, mind pedig a HSI. Ennek köszönhetően az SHCOMP már +0,35%-ban van és a HSI is folyamatosan dolgozza le a veszteségét.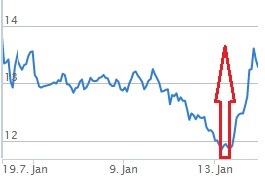 Tegnap dél és du. kettő között a VIX index 5%-ot emelkedett, ami intő jel lehetett volna egy gyors kitárazás megfontolására. A mai napon fontos indikátor lehet az, hogy hogyan fognak teljesíteni az európai börzék. Egy mérsékelt zuhanás már eleve jó jel lehet, de a nagyágyú nyilván ma is az amerikai börzék állapota lesz. Perpillanat (ha már lekéstem a 0-dayről) nem tartom indokoltnak a portfólióm átrendezését.
[commercial_break]
Tartom magam az egy hete tett forecastomnál: továbbra is az öko/alternatív energia papírokban látom a jelenlegi szakasz átvészelésének kulcsát, valamint mellette a moderáltabb profit reményében a kötvény alapokban: (A K&H Közvény alapja december eleje óta már csinált 2,2%-ot)

Egyéb fronton inkább nem nyilatkoznék. Túlságosan közel van már (kevesebb mint két hét) a FED következő döntő ülése, ahol téma lesz a QE#3 további csökkentése, amit némileg beárnyékolhat a rossz foglalkoztatási adat, ami miatt korábban is már többször elhalasztották a kötvényvásárlási program visszafogásának megindítását. Nem tartom kizártnak, hogy addig már nem várható komolyabb piaci elmozdulás, kivárnak a befektetők.