Éppen Frankfurtban vagyok a World Blockchain Summiton. Amellett, hogy persze az Inlock kapcsán érkeztem, azért nem feledkezem meg a kriptoblogger mivoltomról sem. Bár maga a konferencia jellegéből fakadóan is a blochchainről kellene, hogy szóljon, de mindettől függetlenül mindegyik második kiállító ICOkhoz kapcsolódó szolgáltatásokat reklámoz és minden második konf speech is vastagon a cryptokról szól.

A konferecia számomra talán legérdekesebb újdonsága, hogy két nagyobb platform provider is megjelent, akik utilty tokenen keresztül adnak szolgáltatást security token kibocsátásra. Mint számomra kiderült Svájc után már Litvániában is engedélyezett a Security Token kibocsátás. Utóbbinál ráadásul az adózás is teljesen ICO friendly. Az ICO célú security token kibocsátások első körös kibocsátása teljesen adómentes (hasonlóan az Észt példához a utility tokenek esetén). A token tradingre pedig 15%-os adót számol fel adórezidens esetén. Szintén hasonlóan az Észt példához, a Litván Security Token issuing esetén is szükséges céget alapítani Litvániában. Ezen lehetőséges megnyílása egy nagyon újszerű piaci rést fog betömni, ahol KKV jellegű céges security token kibocsátással lesznek képesek finanszírozni a működésüket, amiért cserébe profit vagy bevétel alapú osztalékot tudnak osztani valós tulajdonrész kiadás nélkül. Gombamód várható a közeljövőben az ilyen jellegű ICO-k indulása.
Ennél is sokkal érdemesebb tény Nick Ayton szereplése a konferencián: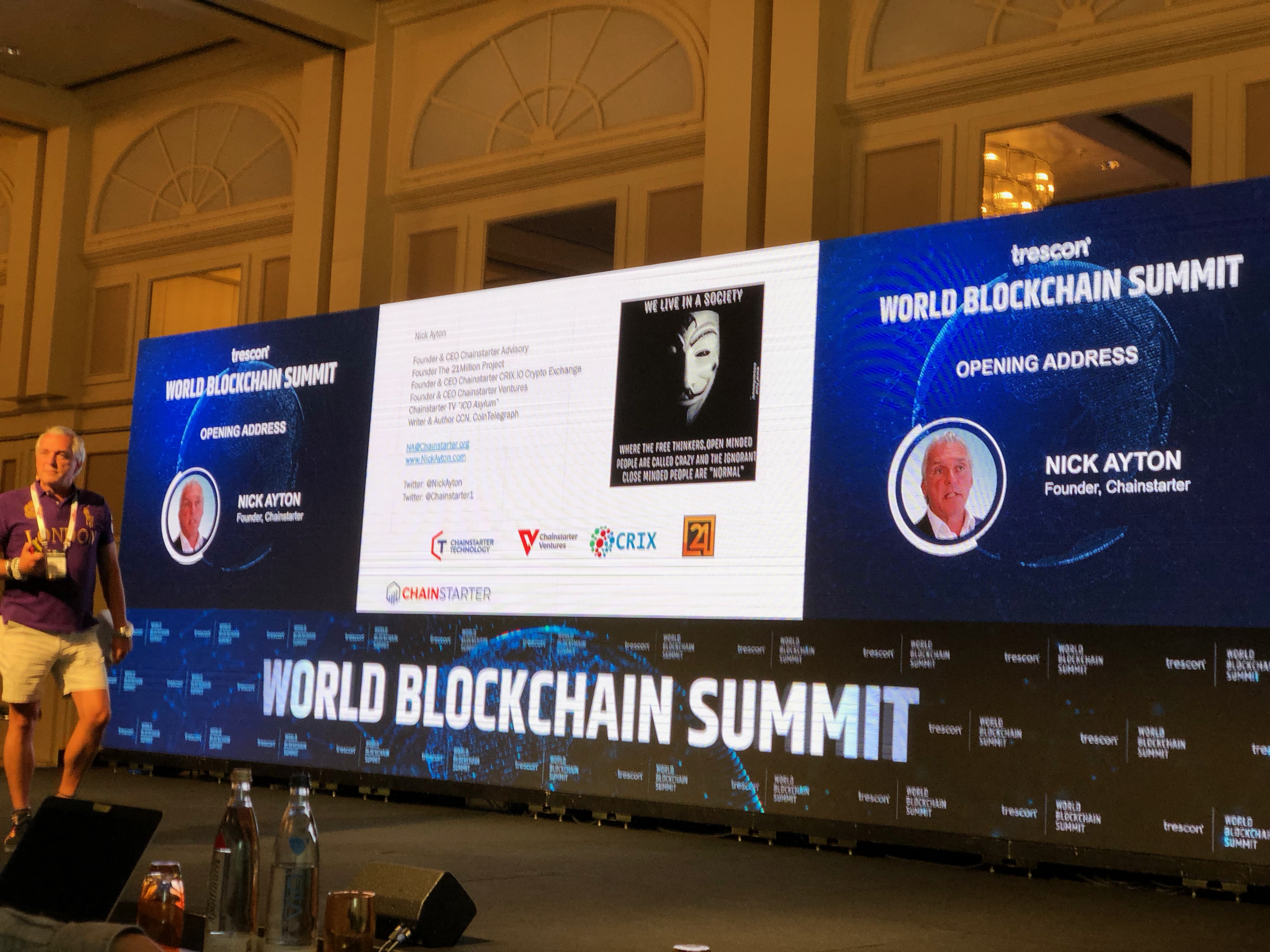 Emberünk egyfajta legenda a szakmában, aki kifejezetten azzal szerzett hírnevet, hogy miközben egyik oldalról rengeteg sikeres crypto és blockchain üzletet hozott össze, addig másik oldalon napi szinten temeti a bankrendszert. Amit itt az előadásában kapott az XRP (Ripple) és a "boardban ülő sátán ügynöke" (Bernanke), azt keresve se lehetett volna ennél szélsőségesebben megfogalmazni. Az úriemberhez képest John McAfee egy ártatlan bárány.
Kirakott egy olyan slideot, amit annyira clickbait gyanús, hogy inkább csak a továbbra rakom ki… 🙂
Nem tudom mennyire lesz olvasható a fotóról, úgyhogy leírom a slide tartalmát:
Nagy Bitcoin Bányász
A vízerőműveknek köszönhetően iszonyatosan olcsó az áram
Állami támogatás
Ázsia számos egyéb részéről kapnak befektetéseket
Mindezek – Nick véleménye szerint – Észak-Korea blockchain releváns kulcsmondatai.
A slide kapcsán azonnal beugrott nekem a jó öreg reddites cikk, amit ugye – köztudottan – egy időutazó írt és arról szól, hogy mekkora brutális károkat okozott a jövőben a Bitcoin és annak adoptációja… Ebben a majd 5 éves cikkben szerepelt a híres predikció:
From now on, there's a slight slowdown, as the value increased by a factor ten every two years, to 1,000 dollar in 2015, to 10,000 in 2017, 100,000 in 2019, and 1,000,000 in 2021.
Szintén az ominózus cikkben szerepel egy összefoglaló arról, hogy kik lesznek 2025-ben a legnagyobb Bitcoin tulajdonosok, mely lista első helyén természetesen az Észak Korea államá áll… 🙂
Ha esetleg lesz ennél érdekesebb/értelmesebb téma is a konfon, akkor ígérem, hogy jelentkezni fogok 🙂