Janet Yellen (az amerikai jegyban elnöke) beszámolót tartott a kongresszus előtt, amikor egy szimpatikus fiatember kicsivel Yellen mögött feltartott egy papírfecnit, rajta a "Buy Bitcoin" felirattal. Az eseményt természetesen az amerikai gazdasági sajtó majd összes szereplője élőben közvetítette.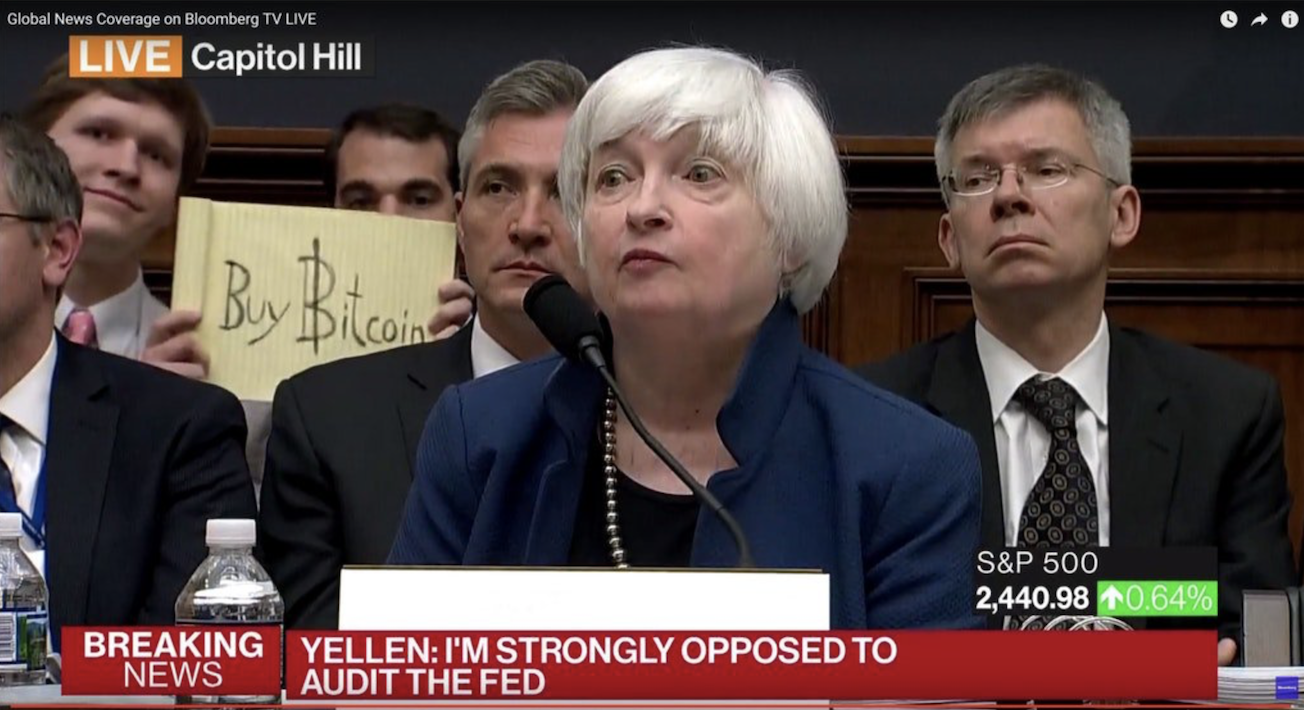 A srácból természetesen pillanatok alatt a bitcoin közösség hőse lett. Bár a konkrét személy kilétére ezidáig nem derült fény, de a történt azért itt még nem ér véget 🙂 Részletek a tovább mögött:
Szóval hamarosan kiderült, hogy a srác nem csak egy jófajta poénnak szánta ezt az akciót és nem is hirtelen pattant ki a fejéből. A konkrét esemény alig egy órája történt és rá fél órára már elő is került az alábbi kép twitteren:
Proof of Bitcoin sign guy! pic.twitter.com/XZRIlVZpSx

— Ethan (@CryptoEthan) July 12, 2017
A képen látható a konkrétan feltartott lap, a mappa, a dátum és egyébként a srác bitcoin wallet címe, ahova várja a jótékony felajánlásokat az akciójáért cserébe.
A számlájára alig fél óra alatt már be is érkezett 1,7 BTC 54 független tranzakció formájában és folyamatosan érkeznek a további adakozások.
[commercial_break]
update#1: Időközben kiderült, hogy a srác neve Walter C Allen, aki egészen a mai napig kongresszusi gyakornok volt. Az eset után természetesen azonnali hatállyal felfüggesztették a házszabály megszegése miatt (igen… ott sem lehet papírlapokat feltartani). Egyelőre úgy néz ki, hogy talán éhen nem fog halni, mivel időközben már majd 2,5 BTC-re híztak az adományok.