Egyre sűrűbben kerül elő szakmai publikációkban, sőt konkrét kezdeményezésekben is a DAO/DAC téma. Bár a blogon szenteltem korábban a témának egy bejegyzést, azonban időszerűnek tartottam egy alaposabb gondolatkísérlettel is körbejárni a témát. Már régóta készülök megírni ezt a cikket, hiszen a téma szorosan kapcsolódik az e hét szerdai Blockchaineum konferenciás előadásomhoz, azonban ezeddig folyamatosan szembejött valamilyen egyéb aktuálisabb téma, ami hátráltatott. Most, hogy látszólag kissé lenyugodtak a kedélyek a Bitcoin körül és túlvagyunk a scaling debate legújabb fejezetein… keresve sem tudnék jobb témát találni, mint a gazdasági szerveződések jövőkutatása. Kezdésnek mindjárt beraknék egy slideot a szerdai előadásom anyagából, ami lényegében összefoglalja a DAO modellt: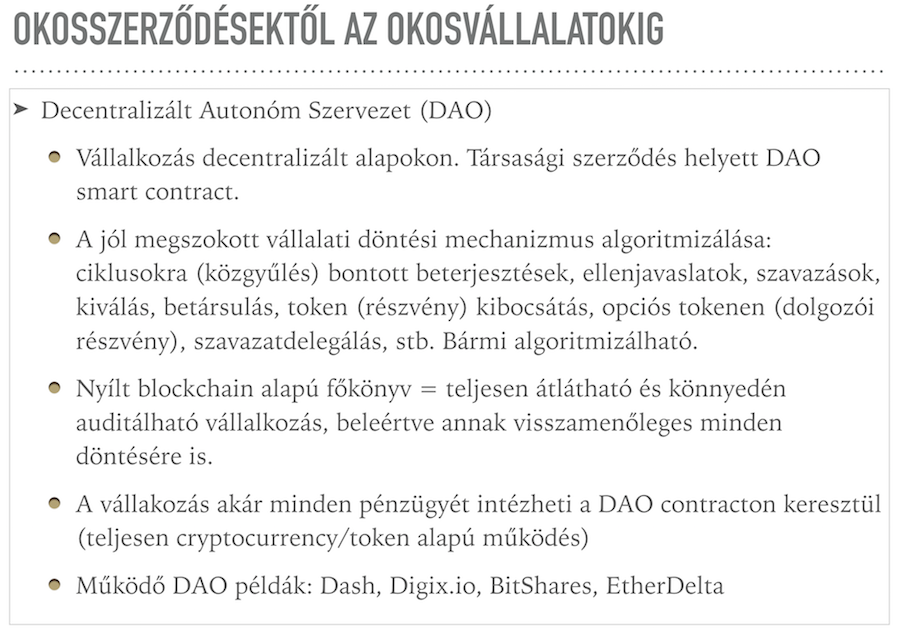 A decentralizált információmegosztás (Internet) és a decentralizált pénzügyi rendszerek (Internet of Value, p2p blockchain alapokon) után a következő nagy falat a meglévő gazdasági szerveződések decentralizálása vagy éppen demokratizálása lehet. Mit jelent az, hogyha egy gazdasági társulás decentralizált? Nincsenek főnökök? A tulajdonosok nem szólnak bele semmibe? Mindenki akkor jár be dolgozni, amikor akar és azt csinál amit akar? Természetesen nem erről van szó.
A DAO modell lényege, hogy a cég vagy szervezet létrehozásakor egészen pontosan definiálják a szervezet működését, célját és céljait, melyek kapcsán kidolgozzák a döntési mechanizmusokat, majd amikor minden elkészül, akkor az egészet bepakolják egy smart contractba. A cég saját tulajdonát/értékét/részvényeit elhelyezi ebben a bizonyos smart contractba, amit a tulajdonosok vagy közvetlenül a smart contractok keresztül kezelnek, vagy – ma divatos modell alapján – tokenizálják a tulajdont és ezen tokeneket, mint a működés alapanyagát felhasználva vesznek részt a szervezet működésében és természetesen annak profitjából is így részesülnek.